These premiums are available by phone only. Please call 800-549-8855 (549-8855) to pledge and claim one of these gifts. SOME GIFTS MAY BE 100% CLAIMED. WE WILL DO OUR BEST TO KEEP THIS LIST UP-TO-DATE.
Halter Ranch Wine Tasting for Two Coupon
Location: 8910 Adelaida Rd, Paso Robles
2 free tastings at Halter Ranch Vineyard
Minimum Pledge: $60
---
Lone Madrone "The Dodd" red wine 2012
Location: 5800 Adelaida Rd. Paso Robles
The Dodd family go back several generations to the early formation of the Adelaida district when mining was the big thing. 48% Tannat, 23% Zinfindel, 15% Cabernet Sauvignon, 14% Petit Verdot
Minimum Pledge: $120
---
1 Bottle of 2014 Grenache & Tasting for Two from Niner Wine Estates
Location: 2400 highway 46 West, Paso
Enjoy this bottle of 2014 Estate grown Grenache from Niner Wine Estates. Included tour & tasting for 2 people.
Minimum Pledge: $240
---
Pair of tickets to Harvest on the Coast
Location: Avila Beach Resort
2 general admission tickets to the Harvest Grand Tasting & Wine auction, Saturday, 11/3/2018, 12 pm to 4 pm, and Complimetary Tasting at all SLO Wine Country Tasting Rooms, Sunday, 11/4/2018 11 am - 4 pm
Minimum Pledge: $240
---
World Class Wine and Culinary Pairing on DAOU Mountain for up to four guests.
Location: 2777 Hidden Mt. Rd. Paso Robles
Wine and Culinary pairing for up to four guests.[Daou sounds like "bow" in "take a bow"]
Minimum Pledge: $365
---
Wine Tour of Paso in a Classic Bus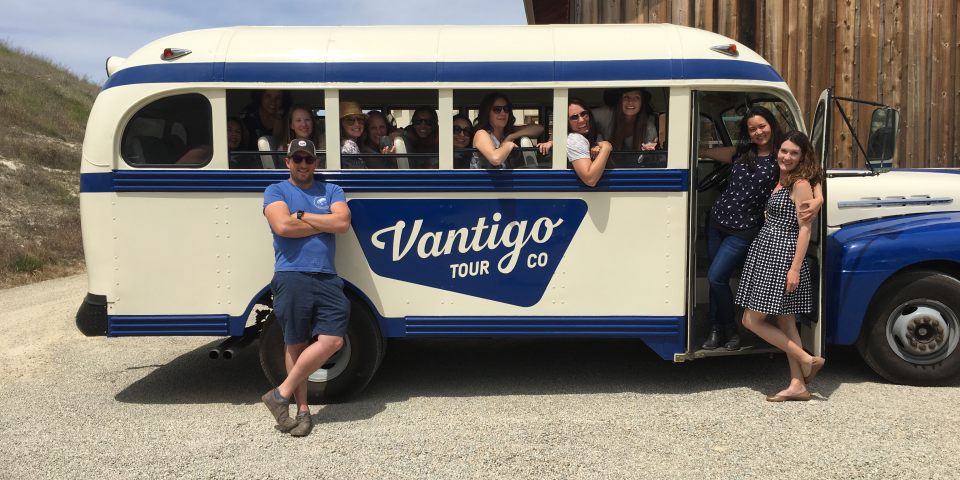 Join Vantigo as they pick you up in a vintage fully restored 1951 Ford Mini-bus for a full-day wine tour adventure with 3 stops along the way. They cater to each individual's tastes during a tour through the Rhones that make Paso famous.
Minimum Pledge: $240
---
2010 "Big Bopper" (Cabernet Franc) Wine
Location: 8500 Union Road, Paso Robles
"Foot stomped, hand crafted" Paso Robles AVA wine, 750 ml bottle. Includes a Rocker-for-a-Day pass (good for 4 people) and other goodies during your visit to the winery.
Minimum Pledge: $175
---
2013 Lone Madrone "The Will"
Location: 5800 Adelaida Rd. Paso Robles
6.3% Grenach, 19% Zinfandel, 18% Petite Sirah. Neil and Ginny Heaton planted this vineyard in tribute to their son, Will. Named also for the will it's taken to plant and tend these rugged north county hills.
Minimum Pledge: $120
---
2015 Grenache Blanc
Minimum Pledge: $60
---
2010 Whale Rock Chardonnay
Minimum Pledge: $60
---
2013 Roussanne [ROW-san] rhymes with "POW!-san"
Roussanne is a white wine grape grown originally in the Rhône wine region in France. Pleasant backyard summer Roussanne
Minimum Pledge: $60
---
Kelsey 2013 Golden Delicious
50-50 blend of freshly pressed apple juice is blended with Chardonnay and fermented together in temperature controlled stainless steel tanks. This is truly a delicious and harmonious blend that is one of a kind.
Minimum Pledge: $60
---
2011 Merlot from Niner Wine Estates
Aromas of ripe raspberry, subtle cherry, light spice and vanilla. The aromas match the palete but go from a light scent to a bolder flavor, with the addition of toasty oak. 88% Merlot, 12% Cabernet Franc.
Minimum Pledge: $60
---
Breakaway Tours Wine Tour
2 seats on a Shared Group Wine Tour in SLO
Minimum Pledge: $240
---
Gift Bag from Saucelito Canyon Vineyard
Location: 3080 Biddle Ranch Rd, San Luis Obispo
Two 750ml bottles of Saucelito Canyon 2015 Zinfandel "Estate" Arroyo Grande Valley, Tasting pass for 4 guest and "Along the California Wine Trail" book written by Jerry Stroud, paintings by Kerne Erickson. Some exclustions [Tasting pass valid thru 2019, NOT valid during SLO Wine Country event weekends or SCV wine club event weekends.]
Minimum Pledge: $240
---
Sit Down Wine & Cheese Pairing for 4 People at Calcareous Vinyard
Location: 3430 Peachy Canyon Rd. Paso Robles
Experience a casual wine and cheese pairing overlooking the valley on their terrace. Knowledgeable hosts will delve into their approach of pairing wine with Artisan cheeses while guiding guests through the nuances of our Calcareous wines. All guests must be 21 years or older. Allow 60 minutes.
Minimum Pledge: $240
---