"Connecting with the child self" through watches that don't tell time
An unorthodox creation has been making its way through the San Luis Obispo arts scene for a few years now: a watch that doesn't tell time.
Kevin Bertolero created his own line of watches with no numbers or hands — just miniature magnetic ducks you can play with. It's part of what he called an "anti-time" movement.
Before he started his watch business, called "Watches That Don't Tell Time", Bertolero was running supply chain and logistics management for a start-up company through the pandemic.
He said the fast pace and constant stress of that experience shifted his relationship with time.
"Maybe I was feeling a little spiteful or resentful of the way time had crushed me and I was trying to push back," Bertolero said.
The point of replacing numbers with magnetic, moveable ducks is not only for them to be timeless and fun, but also to heal.
Bertolero said he was inspired to make the duck watches during an EMDR therapy session. It stands for "eye movement desensitization and reprocessing," and it's a way to process traumatic memories through specific, repetitive eye movements.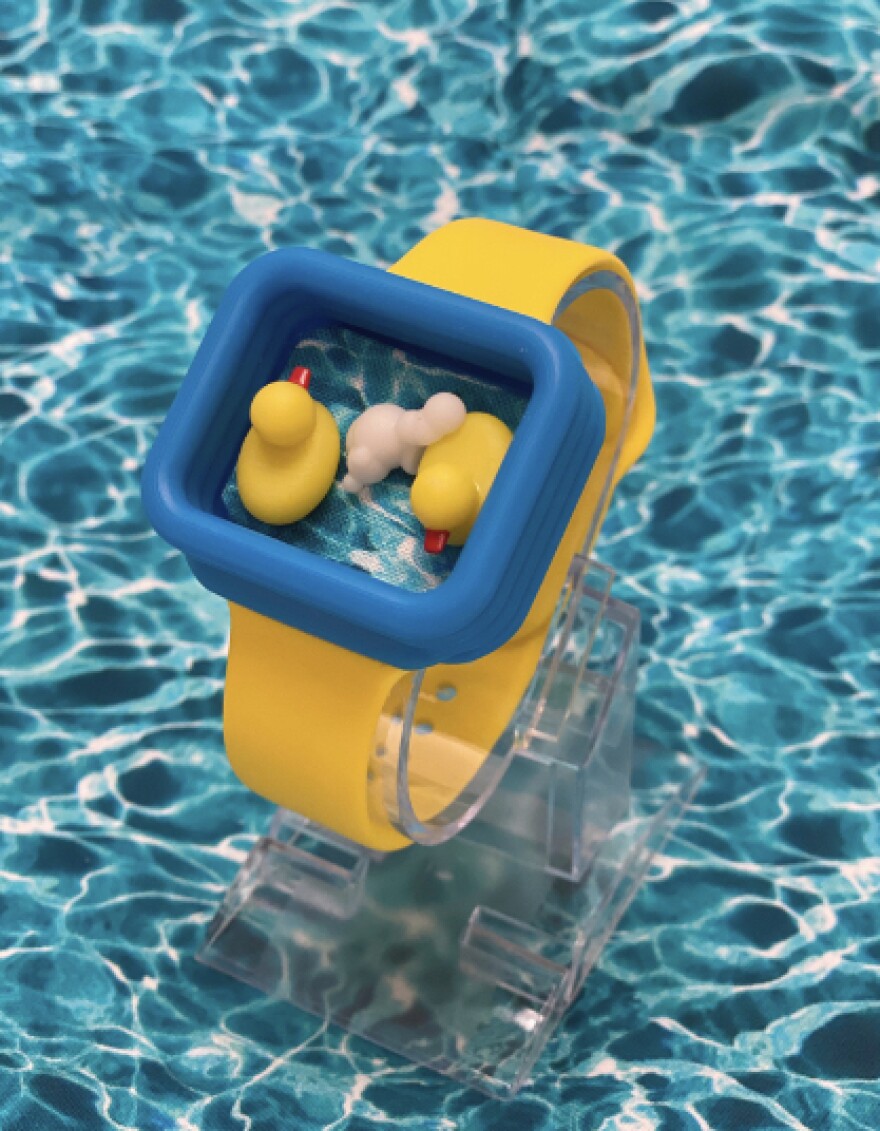 "In it you kind of unblend your child self from your adult self," he said. "People also call the child self the authentic self or the true self."
Bertelero said the ducks serve a similar purpose as the EMDR therapy. It's a way for people to connect with their childhood selves, disconnect from the constant awareness of time and accept the silliness in life.
"I'm doing this kind of connecting with the child self and feeling delight with whimsical things and letting that be okay as an adult," he said. "And so kind of in a dream-ish state I woke up and had this idea of, what if there was an Apple watch, but just brick the whole thing? Who cares about being messaged or notified — just put a cute little duck on it, because ducks are cute and people love them."
The design for the watches took Bertolero over a year to complete, and he did it with the help of his TikTok and Etsy customers. He said the interactive design process with customers helps shape all of his products and the company as a whole.
"People were so stoked, [and] they were also like commenting a bunch of ideas, 'Oh you should try this, oh you should try that, oh do it this way.' So I just started listening to their ideas."
Kennedy Venus is an artist that works alongside Bertolero. She said she has the same goal in mind when designing watches.
"If it can get an adult to just take life less seriously for one moment and really come into this present moment and remember that nothing matters so everything matters," Venus said.
The watches come in a variety of designs; from unicorns to Shrek-inspired watches created through custom orders.
The custom creations help the team through trial and error. They use the myriad of colors from their practice palette for future creations, adding more variety to their designs.
Venus hopes that customers find comfort in the watches' absurdity — just like she has.
"Me reshaping my relationship with time has been a huge facet to my overall mental health and becoming a more calm peaceful and joyful person all around — healing those anxieties that I feel have been there for so long," she said.
Venus said the business continues to grow and be heavily influenced by its customers. The ducks have made their mark all over the world.
"We sent a watch to a wealthy man in Russia. He ordered this ridiculously expensive custom watch," Venus said.
She also said there's no single type of person who buys these watches. They're made for everyone.
"We're finding that the groups of people that really respond to the watches are people that go to raves, like rave culture, and people in the arts scene," Venus said. "We also get a lot of retired folks that just love it, it's a really popular retirement gift. And people are like… it's perfect, it's silly, it's goofy, I love it."
Both Bertolero and Venus said that this business is growing organically and naturally. Right now they make about a sale a day and ship watches twice a week. Bertolero said the long term goal is to not only sell a million watches, but to positively impact a million peoples' lives.
"Having a broad reach so there are a lot of people that feel happy, connected, and inspired by a piece of apparel that they can wear and customize. People love color, making a statement and expression, and I'd love to have a way for people to engage in that," Bertolero said. "But also, I'm interested in people being able to trade charms and have a mental health boost by wearing something or using some of the art that I've created and made."
If you'd like to see the watchmaking process or the variety of watches available, you can find it all on their TikTok account: Watches That Don't Tell Time.
The KCBX Arts Beat is made possible by a grant from the Community Foundation San Luis Obispo County.