Man with severe cerebral palsy able to participate in SLO Triathlon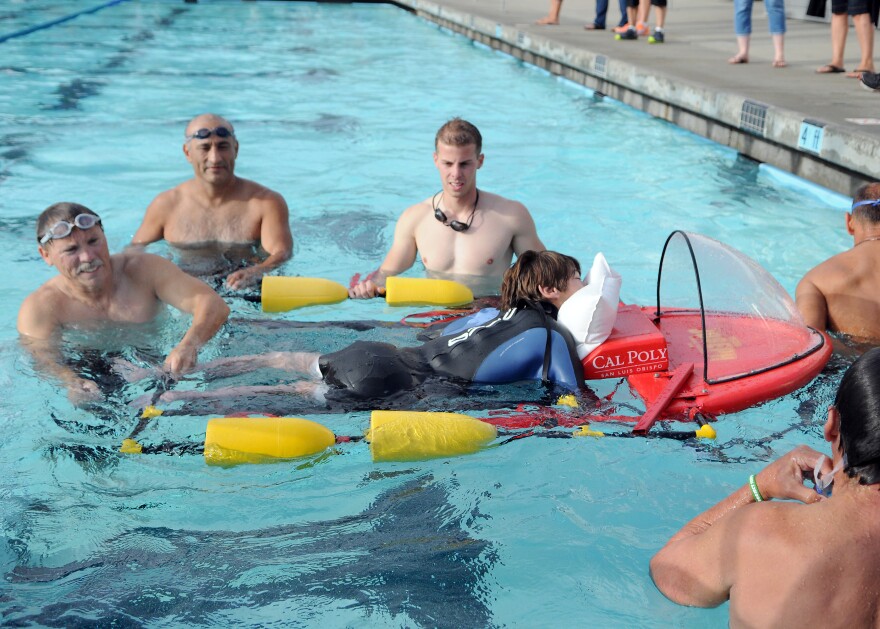 This weekend's SLO Triathlon is being celebrated for one very noteworthy participant, a 20-year-old man with severe cerebral palsy. Thanks to a team effort, 20-year-old Joseph Cornelius of Los Osos was able to take part in the event's swimming competition.
Cornelius' father John has often included Josephy in foot races, despite his son's inability to walk or talk. But, the challenge of having him participate in a swimming event presented a greater challenge. That's where a team of Cal Poly engineering students came to the rescue.
"This is so exciting, it's an idea that came up last year and to see it all happen is just so wonderful," said Marci Mora, a member of Team Joseph. "We've done marathons in the stroller as a team, and this is the first time as a whole triathlon, and it's going fantastic."
Paul Sands is one of the students who helped come up with the Aquabullet concept, a 6' x 4' floatation device that supports Cornelius while he is towed during the swim.
"The swim was amazing, so much energy," said Sands immediately following the swim. "It was just such a thrill and it went really smoothly, very successful."
Michael Lara with San Luis Obispo County Special Olympics says the AquaBullet gives Cornelius "the opportunity to participate in a swimming environment and feel the same sensation that a normal swimmer would."
The Aquabullet project was sponsored by Southern California Special Olympics and made possible by a grant from the National Science Foundation.
Team Joseph was among 1,000 individuals and teams that took part in Sunday's event.