UPDATE: Tips coming in for CAL FIRE Investigators on suspect vehicle related to Cuesta Fire
UPDATE: Aug. 26, 2015 at 4:30 p.m.
As crews near full containment of the Cuesta Fire, efforts to find the person responsible for starting it are still in the works.
CAL FIRE released a photo on Monday of a vehicle that may have ignited multiple fires on the Cuesta Grade and a single fire on Highway 41 on August 16th. It was taken in Arroyo Grande around 1:30 that afternoon and shows a white truck pulling a camping trailer as well as a discolored Volkswagen Beetle.
Tips are coming in on the arson hotline since the photo's release according to CAL FIRE.

Investigators aren't saying why the photo was taken nor why the vehicle is suspected in the case.

The Chief Ranger at the Oceano Dunes says he's working closely with investigators, regarding the possibility the vehicle visited the area that weekend. Rangers at Lake Lopez, a county park near Arroyo Grande, say they have not spoken to CAL FIRE.

CAL FIRE investigator Dennis McLain said Tuesday that the owner of the vehicle has not been contacted.


UPDATE: Aug. 25, 2015 at 7:41 a.m.
CAL FIRE posted this tweet on Monday night in relation to the Cuesta Fire, asking for the public's help:
"If you have information about this vehicle in the photo contact the Arson Hot line 800-468-4408. #CuestaFire"
ORIGINAL STORY:
CAL FIRE announced Friday that investigators are seeking help from the public in finding the person responsible for starting the Cuesta Fire in northern San Luis Obispo County.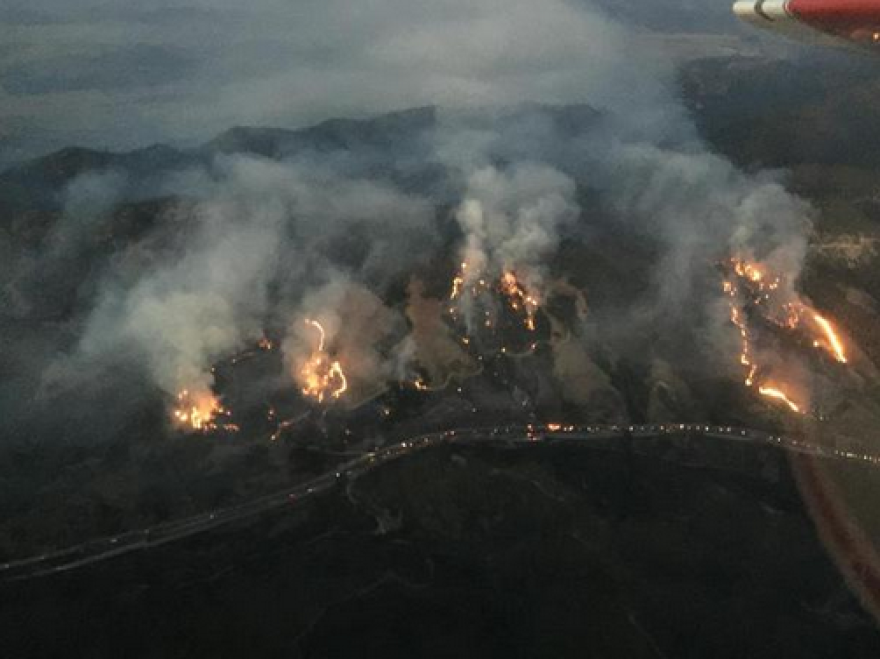 A single vehicle with a mechanical problem is suspected of being the ignition source of that fire, and possibly two other fires. A fire on Highway 101 at the Nojoqui Grade in Santa Barbara County and an uphill section of Highway 41 near Cholame in San Luis Obispo County happened along a timeline that could match a single vehicle.
The Cuesta Fire started on Sunday, August 16 around 6:15 p.m. along Highway 101 just north of San Luis Obispo. CAL FIRE investigators say a vehicle headed northbound up the grade sparked the fire that spread to 3,500 acres as of Friday afternoon.
If you possibly witnessed a vehicle headed northbound on Highway 101 in these areas last Sunday, contact CAL FIRE's Arson Hotline: 800-468-4408.