New San Luis Obispo crime reporting tool owned by data broker
The reporting of some crimes in San Luis Obispo has moved online. This week the city's police department launched a new web tool for filing a police report for certain non-violent crimes. But the online system may not be the only entity holding victims' personal data.
Say you leave your car door unlocked and someone breaks in, rifles through the interior and steals your favorite pair of sunglasses and iPad. The new Citizen's Online Reporting System is where you will go to report the theft in San Luis Obispo. Even if you call non-emergency dispatch, the police department says it may still refer those with internet access to the online system if the crime warrants it.
The web tool allows the community to file reports and photos for thefts under $950 dollars, vandalism and graffiti, abandoned vehicles, and a hit and run if the car is parked and there are no witnesses. Also, it's where you would file a report if you lose your phone.
What the online system won't file are reports for hate crime or gang-related vandalism, firearm theft, emergencies, bodily harm or any serious crime.
The San Luis Obispo Police Department says the tool will make reporting some crimes easier for the public and easier on them, too. According to a November 12 press release, the department has seen a spike in calls for service over the past few years—800 to 1,000 additional calls for service per year—and the online system will free up time for more street patrolling.
The software is named Coplogic and is owned by LexisNexis, the company that pioneered putting research documents online in the 1970s. Specifically, Coplogic is a product of LexisNexis Risk Solutions, an international data and analytics company that compiles and sells consumer data. The San Luis Obispo Police Department says hundreds of U.S. law enforcement agencies use Coplogic, close to half in California alone. LexisNexis Risk Solutions offers several other law enforcement and public safety products that are used by more than 5,000 agencies, according to the company.
Law enforcement agencies have different options for using that data. For Coplogic's automobile crash reporting tool, cities can track where the worst traffic intersections are for collisions.
When you launch San Luis Obispo's Citizen's Online Reporting System, the site states, "all personal information shared is secured and encrypted for your protection and will be used for criminal justice purposes only." But LexisNexis will also have a copy of that data.
There is no 'opt out' button or data waiver to sign when you launch the San Luis Obispo Police Department's web reporting system. When you click the 'Privacy Policy' link at the bottom of the page, LexisNexis states, "depending on how you interact with us and the service, we use your personal information to" and then gives a laundry list of uses. These include custom content, targeted ads, promotional messages, even sweepstakes invitations. It also says LexisNexis may study usage trends, develop data analysis and also may trade your data with parent company RELX, which as the New York Times reported in 2016, collects police information, sells it to insurance companies and kicks back a cut to cities. LexisNexis has even been sued by states like Illinois and Massachusetts, for allegedly withholding portions of those fees from law enforcement agencies. The company disputes those claims, but settled with the states for millions of dollars.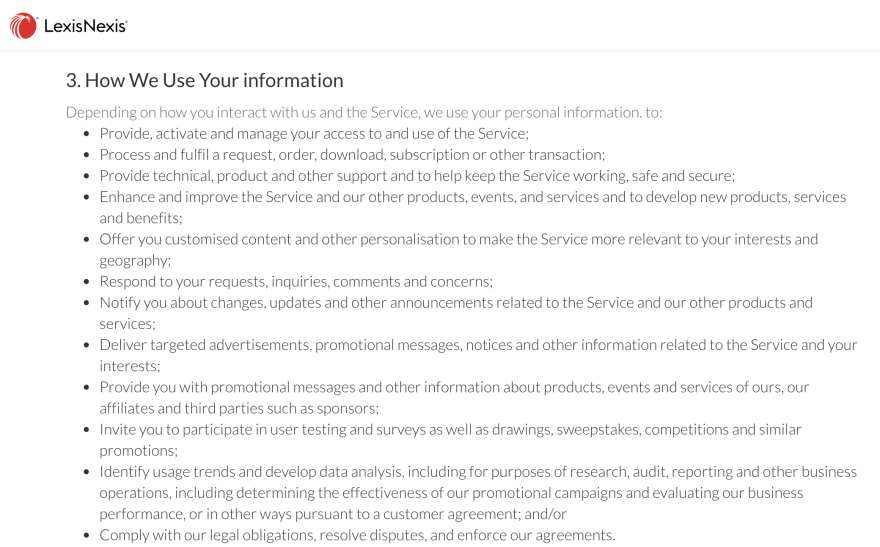 San Luis Obispo Police Chief Deanna Cantrell said the city's crime-reporting tool will not share data.
"I spoke with the head of security at LexisNexis this morning and confirmed that when a report is submitted online the data stays on the LexisNexis server for only 60 days after [being] imported into the police department's Records Management System," Cantrell said in a Nov. 14 email to KCBX News. "All data is then completely deleted from their system and no information is shared with outside entities for the purpose of marketing, etc."
KCBX News made multiple requests for documentation of Coplogic privacy protocols from both the city and Cantrell and none were returned in time for publication. But under the 'Terms & Conditions' and 'Retention/Distribution' sections of San Luis Obispo's web tool, Coplogic states, "for all services provided hereunder that involve Reports provided to LN (LexisNexis) by agency, LN will maintain a copy of such Report for a period of no less than seven years from the date of the Report."
The American Civil Liberties Union has raised concerns about what Coplogic stores and for how long. The ACLU of Washington state issued a surveillance impact report about Seattle's use of Coplogic. The report states, "this technology gives rise to potential civil liberties concerns because it allows for the collection of information about community members, unrelated to a specific incident, and without any systematic method to verify accuracy or correct inaccurate information." In addition, the report found a lack of clarity surrounding how data was retained and shared by LexisNexis and integrated into the Seattle Police Departments' records management system.
KCBX News reached out to LexisNexis for comment about Coplogic's data sharing, as well as clarification of its data security policy, which is, "we implement technical and organisational measures to seek to ensure a level of security appropriate to the risk to the personal information we process. These measures are aimed at ensuring the integrity, confidentiality, and availability of personal information." The company did not respond.
As a side note, the data company the San Luis Obispo Police Department is working with may have personal information on you already. If you're curious about what data LexisNexis does have and disseminates, you can ask for it via an online form.