2018 Primary: SLO County Sheriff candidates focus on mental illness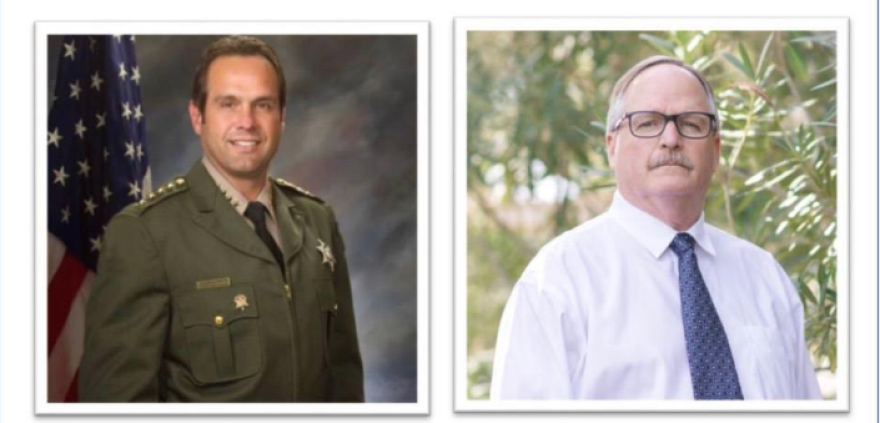 As part of our coverage of the June 5 primary election, KCBX News invited some local candidates to the studio to learn more about their visions, experience and concerns. In this segment, we separately interviewed San Luis Obispo County Sheriff Ian Parkinson and his challenger Greg Clayton.
When local news outlets received a press release from the San Luis Obispo County Sheriff's Office on January 23, 2017, it reported the death of an inmate, and said the inmate had been "under the continual care of a physician and his cause of death is not immediately known." The inmate was 36-year-old Atascadero resident Andrew Holland, and the press release went on to say, "there were no outward signs of trauma on Holland's body. No foul play is suspected."
The press release made no mention that Holland had spent 46 hours locked into a restraint chair, and hadn't been allowed to get up and get his blood circulating properly; within an hour of being released from the chair, he died of a blood clot. Holland's death has since become a symbol for the treatment of mentally ill patients in jail, because Holland had schizophrenia. It's also become a key issue in the current election, with San Luis Obispo County candidates talking about it in debates, forums and interviews. It is certainly the foremost topic in the race for county sheriff, who runs the jail. Incumbent Ian Parkinson is fighting to keep his job, and challenger Greg Clayton's platform is figuratively built on Andrew Holland's case. KCBX News invited both into the studio, and we'll hear first from Parkinson, then Clayton.