Venoco files for bankruptcy and quitclaims Santa Barbara Channel oil leases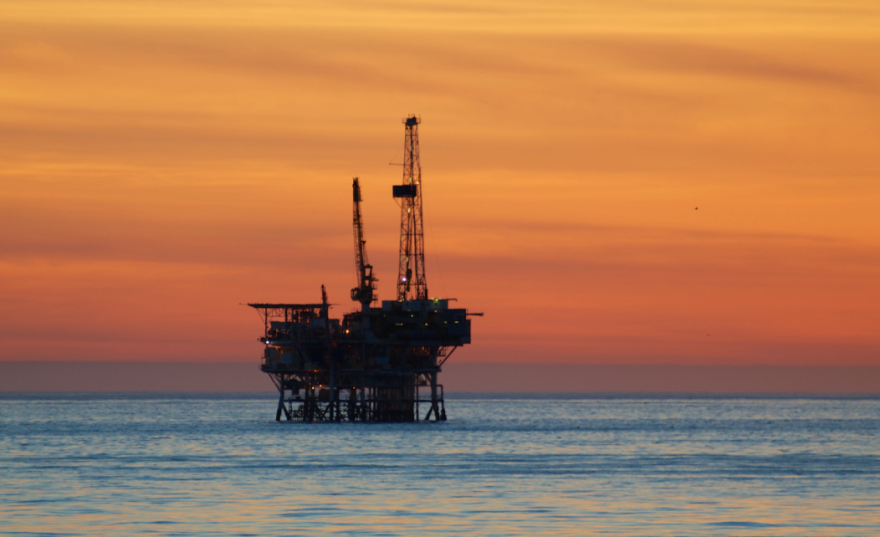 The energy company Venoco announced it has filed for Chapter 11 bankruptcy. The company told the California State Lands Commission it no longer has the financial means to continue operating its oil platform in the Santa Barbara Channel.
Two months ago, a Venoco spokesperson said the company proposed to drill for oil off the Santa Barbara coast for another 25 years. Until last week, the company had an active application before the California State Lands Commission to expand a portion of its oil production in state waters.
However, now Venoco has sent the state a different plan.
"This morning, the California State Lands Commission received documents from Venoco basically conveying their interests in the three state leases offshore Goleta back to the state," Jennifer Lucchesi, State Lands Commission's executive officer, said.
Some of the company's offshore leases - known as the South Ellwood Field - and an onshore processing facility at the Goleta Beach Pier revert back to the state after Venoco quitclaimed them.
"Under California law, the California Coastal Sanctuary Act, no new leases for offshore oil and gas production can be issued at this location. So these offshore lands go into the coastal sanctuary," Lucchesi said.
Some of Venoco's platforms are in state waters, strictly governed by California state laws. The company says it plans to continue production at its platforms in federal waters until it sells its assets under the court-supervised bankruptcy process.
Venoco spokesperson Ned Wigglesworth declined an interview request Monday, but sent out a press release and fact sheet answering questions about the bankruptcy process.
The company's bottom line was severely affected by the shutdown of the Plains All-American pipeline that ruptured and caused the Refugio oil spill in summer of 2015. Since then, it hasn't been able to pipe oil from its Platform Holly, immediately off the coast from the UC Santa Barbara campus.
Linda Krop is chief counsel for the Environmental Defense Center. She says until recently, the center and local activists were working to stop an increase in oil production in the Santa Barbara Channel.
"[Venoco was] trying to expand their operations from Platform Holly and extend the life of the platform, plus the onshore processing plant, and that generated a lot of opposition," Krop said. "We've been fighting that proposal for close to 20 years, both by Venoco and its predecessors."
Those opposed to oil and gas drilling off the California coast are celebrating news of Venoco's quitclaim.
"It's fantastic news because these facilities were very old. Some were built in the 40s, some in the 60s, so there were a lot of concerns here about oil spills and gas leaks, and we have experienced both," Krop said. "So this is really good news for the community that these facilities won't be operating any more and that our coastline can be restored."
The state says since taking over the South Ellwood Field leases from Exxon in 1997, Venoco has paid about $160,000,000 in royalties and rent, and hasn't had "any significant spills on state property,' according to a State Lands Commission statement issued April 17. The city of Goleta and Santa Barbara County coffers will be negatively impacted by Venoco's bankruptcy.
"The quitclaim is a positive development for the Goleta community and all of us who look forward to the restoration of our coastline," said Goleta mayor Mayor Paula Perotte in an emailed statement after Venoco's announcement. "The City's paramount concern has been and will continue to be the public health and safety of our community and our residents. Our city council and staff look forward to working with California's State Lands Commission and other agencies on the decommissioning of these facilities."
Now it's up to the State Lands Commission to decommission the South Ellwood Field offshore oil wells.
"We have a long, complex and expensive process ahead of us in plugging and abandoning the 32 wells and pursuing decommissioning and ultimate removal of the facilities," Lucchesi said. "And the commission is committed to working with all the local communities and stakeholders and regulatory agencies with jurisdiction to ensure a collaborative and efficient process."
Venoco said eventually all its employees will lose their jobs once the company sells all its assets. In the meantime, Venoco said it expects to conduct business as usual and will maintain "day-to-day relationships with employees, vendors and customers."