UPDATE: Crews working to keep Cuesta Fire out of Santa Lucia Wilderness
UPDATE: August 17, 2015 at 10:17 a.m.
Crews working to contain a 100 acre brush fire burning along Highway 101 on the Cuesta Grade, just north of San Luis Obispo, will focus their efforts Monday on keeping the fire from spreading into the Santa Lucia Wilderness. In addition, they'll be protecting power lines and communication towers threatened by the fire.
San Luis Obispo County CAL FIRE said Monday morning the fire is only 10 percent contained, but crews made good progress overnight on line construction on the fire's north eastern edge. They'll continue construction of control lines throughout the day.
The fire is burning on very steep and rugged terrain with historically dry conditions adding to the combustibility of the fuel. Air resources were used Sunday night to help battle the fire, but were grounded Monday morning until visibility improved.
"The communities surrounding the Cuesta Fire can expect to see smoke throughout the day and into the evening," CAL FIRE said in a statement Monday.
CAL FIRE listed the cause of Sunday night's fire as "Vehicle" but did not provide any further details. A CHP report from Sunday night stated that a Ford pickup truck dragging a chain may have caused the sparks that ignited the three fires along that stretch of roadway.
In addition, a vehicle started a fire Sunday night on Highway 41 near Cholame in eastern San Luis Obispo County.
Highway 101 was open on the Cuesta Grade, but the northbound slow lane was closed Monday morning.
Original Story:
CAL FIRE was working to contain a series of brush fires that began burning along the Cuesta Grade early Sunday evening.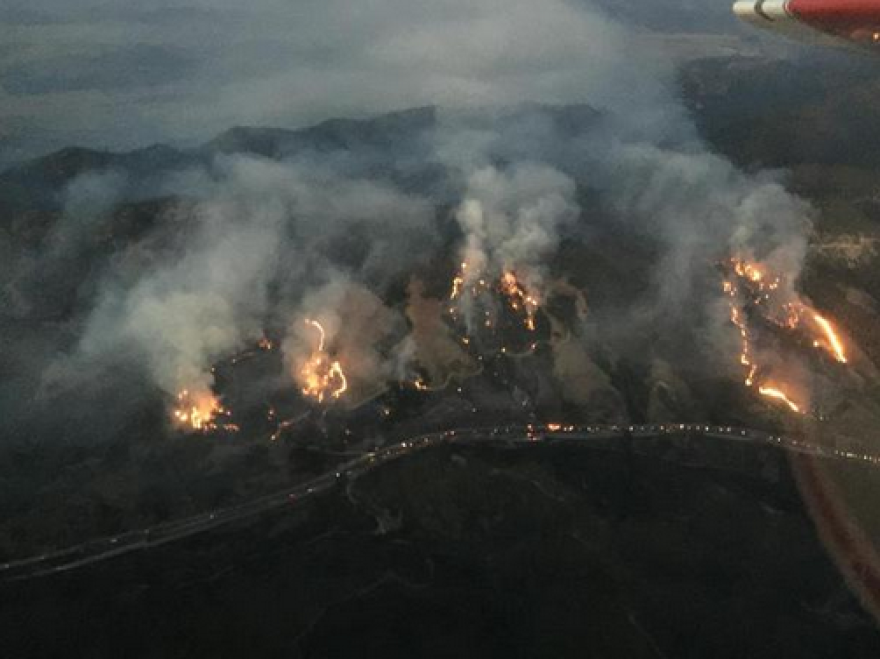 San Luis Obispo County CAL FIRE says the Cuesta Fires have now burned an estimated 75 acres.
The California Highway Patrol traffic log said a Ford pickup truck dragging a chain may have sparked those fires, but CAL FIRE has not yet released an official cause.
Northbound Highway 101 traffic was backed up well into San Luis Obispo Sunday night as adjacent lanes were closed.
Meanwhile, in Santa Barbara County, crews were working to contain a brush fire Sunday night along the Nojoqui Grade south of Buellton. County Fire said crews kept it to 5 or 6 acres, and is was listed it at 80 percent contained Sunday night.