Santa Maria Air Tanker Base bustling with planes amid Alisal Fire, more favorable winds in Santa Barbara County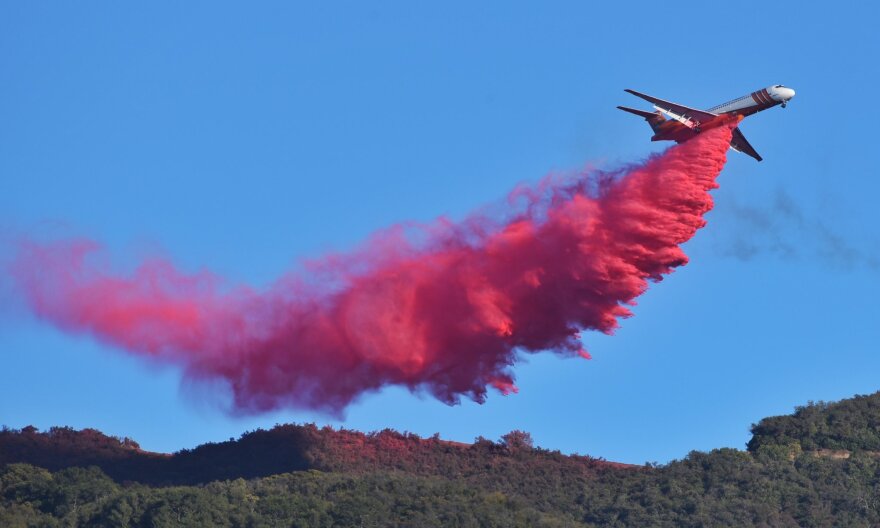 When the Alisal Fire broke out on Monday, fierce winds prevented air support from taking off to help.
But ever since Tuesday, when winds turned more favorable, the Santa Maria Air Tanker Base has been bustling with jets coming in and out all day.
From sunrise to sunset, planes battling the Alisal Fire have been coming and going from the Santa Maria Airport, as aerial crews have been dousing the hillside with fire retardant.
Chasen Urban with the U.S. Forest Service is helping in air traffic control, monitoring the planes coming and going.
It's a quick turnaround, with ground crews working fast.
"From the time they land to the time they are taking off after we load them with retardant is about 18 minutes," Urban said.
Urban said so far, 300,000 gallons of fire retardant have been used.
The retardant isn't meant to be applied to areas already burning, but rather used to create a fire break. Once the pink slurry douses vegetation, those plants won't catch fire.
Urban said it's the color pink intentionally.
"It's just a way for them to be able to see on the ground," Urban said. "It's a visual indicator — pink is just the easiest."
While wind and smoke prevented the jets from taking off at the start of the fire, Urban said the forecast has been working in their favor the last few days.
But with the potential of sundowner winds, a uniquely Southern California wind that brings hot gusty winds through the region, crews are busy making progress while they can.
It's a busy time for firefighters, but Urban said with how often wildfires have been sparking in California in the last few years, they're used to it.
It's just another day in the office to a lot of the firefighters out here," Urban said. " It's just kind of business as usual."