Condor chick is the first raised in the wild in a century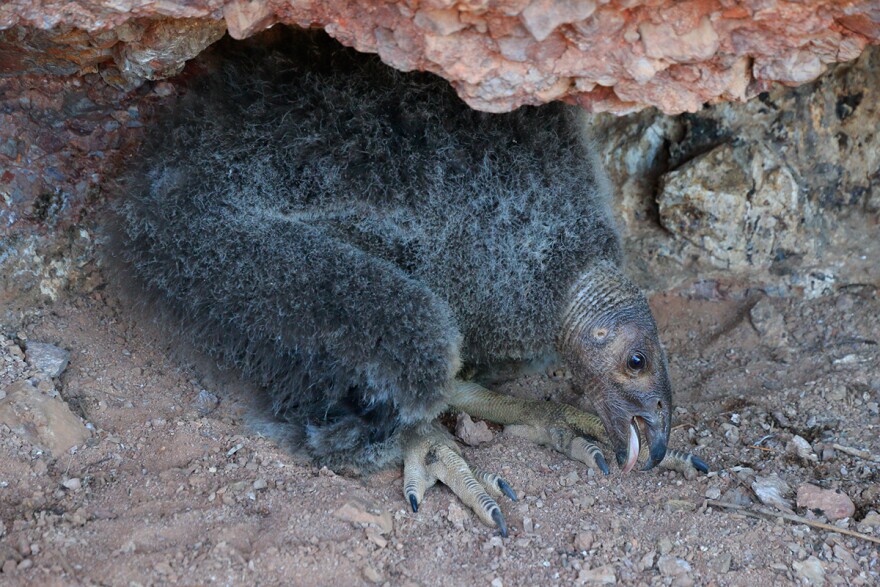 A 5-and-a-half month old California condor chick has taken flight in Pinnacles National Park.
This endangered condor chick is the first to be successfully raised solely in the wild in more than 100 years. All other California condors have been raised with assistance from a condor rehabilitation program.
Condor Program Manager Rachel Wolstenholme said that staff at Pinnacles have been observing the remote nest since the bird hatched in February.
"The young nestling just left the nest for the first time and is flying in the park with her parents and still using that general area," Wolstenholme said. "But that's really when we start calling it a successful nest."
Condors have been poisoned for years by lead in ammunition. The birds often ingest the lead by feasting on caresses--their sole food source.
"A lot of the hunting and ranching operations that are in this area and other areas where the condors are searching for food really help provide a really great food resource for them," Wostenholme said. "And that food source is critical."
Wolstenholme said many hunters have switched to non-lead ammunition, but there are still those who haven't.
Currently 250 condors fly in the wild today. That number is expected to grow. At their lowest point in the 1980s, there were fewer than 30 California condors total.